Acu-Tech sells a wide range of PE drainage pipe and fittings for plumbing & drainage application, known as the Acu-Drain pipe system. These are non-pressure pipes suited for drainage and wastewater in industrial or building applications. Acu-Tech piping systems manufactures polyethylene drainage pipe in W.A. Drainage pipe can be pressure pipe or non-pressure pipe, depending on the application. Drainage pipe is plain black on the outside, and has a thin wall compared to pressure pipe, as the contents are not under much pressure.
HDPE drainage pipe may also be known as polyethylene flood pipe, which is large diameter drainage pipe for storm-water or high-volume drainage applications. Acu-Tech's drainage pipe, known as Acu-Drain pipe system, comes with a large range of poly drainage fittings, and can be welded together with drainage electrofusion fittings. EF drainage fittings are different from pressure-pipe electrofusion fittings, and are welded with a dedicated low-voltage EF welder, known as an electrofusion drainage welder.
For convenience and for bulk orders, Acu-Tech can supply polyethylene pipe fittings that have been pre-butt welded with P traps, S traps, and other combinations. Please contact us on 1300 270 270 if you need a custom configuration – our team will surely be able to make your job easier!
Acu-Drain pipe comes in the following sizes: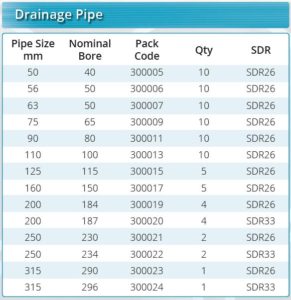 Low Pressure PE pipe, also known as flood poly pipe or flood pipe, is used for large bore irrigation, storm-water and drainage applications. Available from 110 mm diameter up to 1200 mm, Non-pressure poly pipe has a reduced wall thickness for cost effectiveness and ease of installation. Due to its light weight per meter, low pressure HDPE pipe can be manufactured in longer lengths – up to 20 meters, depending on pipe diameter. Contact us to discuss custom sized poly flood pipe, or custom manufactured drainage pipe spools.
Acu-Tech sells HDPE drainage pipe and fittings, as well as an assortment of accessories and extras – bolt sets, flange gaskets, backing rings, electrofusion drainage welding machines, polyweld welding wipes and poly pipe scrapers. At Acu-Tech we aim to be your one-stop-shop for all plumbing and drainage supplies in Perth, W.A.
View our full range of polyethylene drainage pipe and fittings in the Drainage Catalogue below!