ACU-POWER – Conveniently Coiled Electrical Conduit
Acu-Power Electrical Conduit is manufactured from High Density Polyethylene (HDPE) with an orange co-extruded outer layer for clear identification. This flexible electrical conduit is used to protect electrical cables from damage, and to protect peoples lives, by greatly reducing the risk of electric shock. Rather than cutting a power line and getting an electric shock, an excavating contractor will simply hit the electrical conduit pipe, before severing the cable.
The rapid growth of today's power requirements, as well as the steep cost of outages and cable repairs, have created an industry preference for protective HDPE conduit rather than PVC conduit, concrete conduit or other materials. Acu-Tech addresses this modern need with its HDPE electrical conduit; Acu-Power.  Acu-Power conduit provides superior mechanical protection to electrical cables, as well as protection from moisture or chemicals and even, in some cases, animals. Furthermore, the permanent pathway provided by conduit also facilitates replacement projects or future installations of additional cable or duct. Acu-Tech also supplies subduct, for further protection and segregation of electrical cables within the Orange Conduit.
Acu-Power is available in the following sizes and lengths:
| Conduit Diameter | Coil Length |
| --- | --- |
| 50mm | 150m |
| 63mm | 140m & 200m |
| 90mm | 100m |
| 110mm | 100m |
| 125mm | 100m |
| 140mm | 100m |
| 160mm | 80m & 100m |
Acu-Power conduit can be installed below ground by a variety of methods, including directional drilling, ploughing, and open trench. Also, its flexibility and availability in continuous coiled lengths facilitates installation into existing conduits or ducts as inner-duct.
Bright orange colour coding for simple identification
Cost effective installation, particularly using trenchless technology
Trenchless installation greatly reduces environmental impact caused by excavation
Acu-Tech's safe coils are strapped in layers, to prevent dangerous uncoiling.
High Strength and flexibility
Lightweight & fast to install
High Quality HDPE Conduit
Extremely durable
Elec HDPE Orange Coex is branded ACU-POWER
Download the Acu-Power Electrical Conduit Catalogue:
Click here to download the Acu-Power Electrical Conduit Catalogue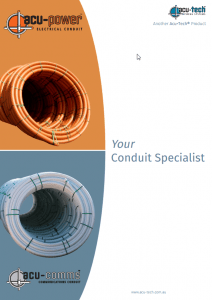 Helping You
If you need advice or guidance, we're here to help.
Acu-Tech Piping Systems' sales team have extensive experience in the supply of HDPE conduit. We encourage you to tap into this wealth of knowledge for advice and guidance. Our Sales Office is ready to take your call on 08 9238 8000 and will ensure that your enquiry is dealt with promptly. Alternatively, to send an email please click here. This product is also available from our Brisbane HDPE Pipe Manufacturing Plant, which has the capability to manufacture Electrical Conduit in Queensland. As a QLD Pipe Manufacturer, Acu-Tech is a leading supplier of HDPE Conduit Pipes in the Brisbane directional drilling industry. To buy PE Conduit from our Brisbane Pipe Manufacturing Plant, Contact us today on 1300 270 270.