ACU-RURAL -IMPERIAL PIPE SYSTEM FOR RURAL APPLICATIONS
Providing quality irrigation water to where it is needed is a key challenge in farming and rural areas – precisely where Acu-Tech's Acu-Rural pipe can come in handy. These pipes are economical and environmentally sustainable, and available to customers across the country through a wide distributor network. The Acu-Rural Piping System is the No. 1 choice for all water supply lines for farm troughs and dams, irrigation systems, vineyards, etc., providing reliability and longevity.
Key features and benefits:
High quality pipe, made to remain robust even in harsh environments.
Red Stripe and Acu-Rural branding for easy identification.
Below ground installation will give longer lifetime than above ground.
Acu-Tech is your one-stop shop for rural pipe supplies, with Plasson compression fittings in stock, and equipment and accessories.
20mm (¾") to 50mm (2″) diameter pipe is available in 50, 150 and 200 metre coils.
All sizes are rated to 900 KPA (at 20°C), PN 9 (SDR 17).
Larger coils are supplied as 'Nested', to save space and transport costs. This means a smaller coil of pipe is placed inside a larger coil of pipe, and strapped together.
HDPE material has good UV resistance, and will not become brittle at low temperatures.
The smooth internal surface, resistance to deposits and seamless joints ensure the maximum flow capacities are maintained over time.
Plasson Compression Fittings come in a range of sizes, to suit the imperial dimension of Rural Pipe.
Download our Rural Pipe Brochure;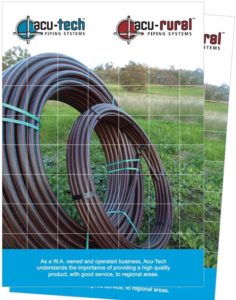 The table below shows the coil sizes and weights (subject to change):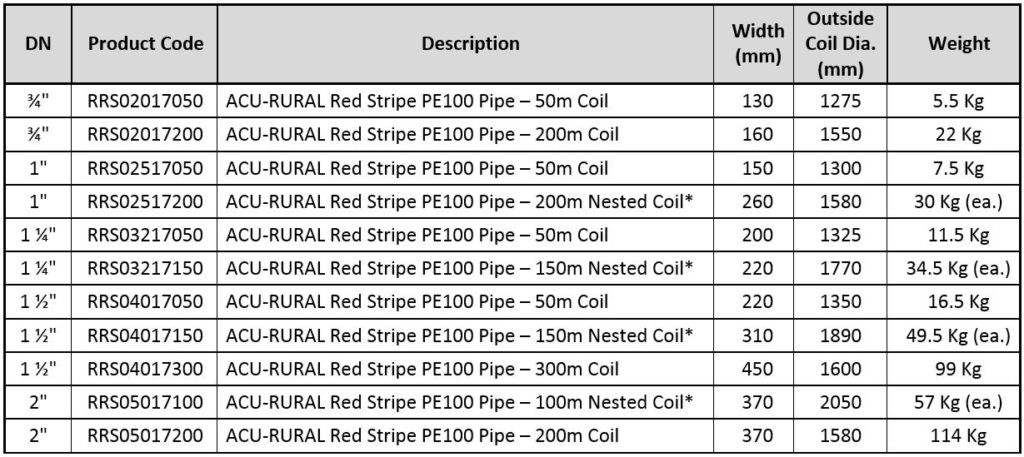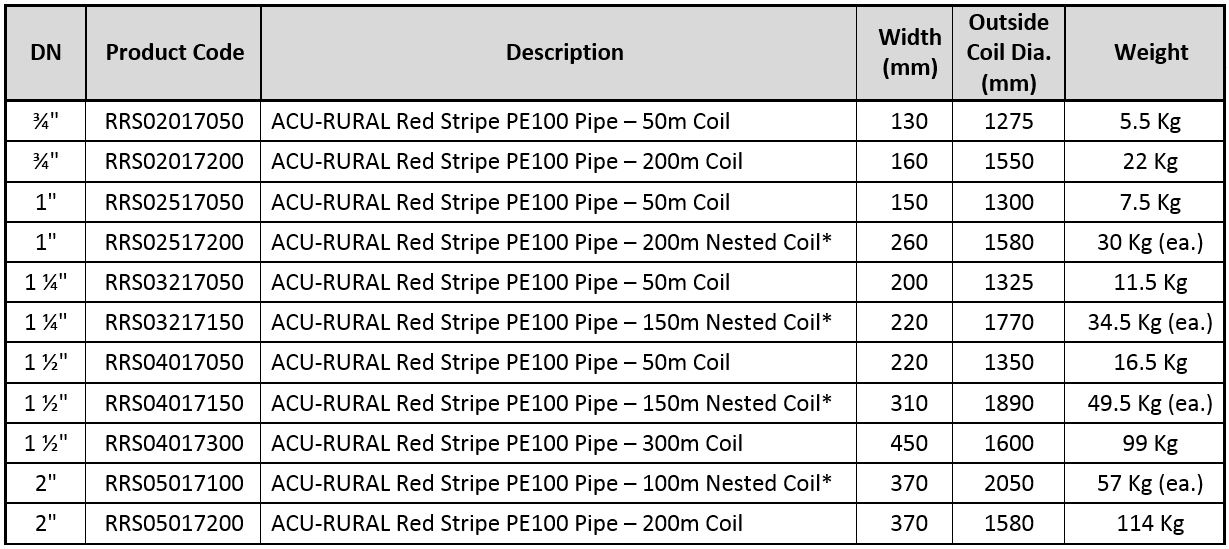 CLICK HERE TO SEE ALL THE BENEFITS
Helping You
If you need advice or guidance, we're here to help.
Acu-Tech Piping Systems' sales team have extensive experience in the supply of water pipeline installations. We encourage you to tap into this wealth of knowledge for advice and guidance. Our Sales Office is ready to take your call on 08 9238 8000 and will ensure that your enquiry is dealt with promptly. Alternatively, to send an email please click here.