Providing quality drinking water to people is of global importance, and a core part of our business is to provide piping solutions for water applications that are economical and environmentally sustainable. The Acu-Water Piping System is the No. 1 choice for all water supply lines, providing flexibility, longevity and economy.

Protection of both lives and property from fire damage is a crucial part of the design on every project. The Acu-Fire Pipe System has unique properties that make it the material of choice for below ground fire main pipelines. Acu-Tech's experience in supplying HDPE piping means we can quickly respond to your requirements for red-striped pipe lengths for hydrants, hose reels, and sprinklers. We stock the most common lengths and diameters and can custom make any specific sizes you may need.

Gas distribution is an important sector for high integrity products where the safe transport of gaseous fuels is of paramount importance. Acu-Gas is the system of choice for below ground natural and LP gas mains and distribution pipelines. Acu-Tech has forged strong relationships with both gas-fitters and gas utilities over many years. We offer support, training and advice on complete package solutions.

Acu-Comms Communication Conduit is manufactured from High Density Polyethylene (HDPE) with a white co-extruded outer layer for clear identification. Acu-Comms conduit can be installed below ground by a variety of methods, including directional drilling, ploughing, and open trench. Also, its flexibility and availability in continuous coiled lengths facilitates installation into existing conduits or ducts as inner-duct.

Acu-Power Electrical Conduit is manufactured from High Density Polyethylene (HDPE) with an orange co-extruded outer layer for clear identification. Advances in cable technologies, as well as the expense of repairs, have driven preferences for protective conduit over that of direct burial. Acu-Power conduit provides superior mechanical protection to electrical cables, as well as protection from moisture or chemicals and even, in some cases, animals. Furthermore, the permanent pathway provided by conduit also facilitates replacement projects or future installations of additional cable or duct.

The Acu-Black PE100 Pipe System incorporates the largest range of pipe and fittings manufactured from high density PE100 material. Acu-Black pipe and fittings are utilised in a wide range of fluid and gas applications across the plumbing, mining, civil, energy and mechanical services markets. Built on nearly 50 years of industry research and innovation, PE pipes have a track record of exceptional performance and durability in many demanding applications.

Providing quality irrigation water to where it is needed is a key challenge, which Acu-Tech's Acu-Rural pipe can come in handy. These pipes can withstand high temperatures and are economical and environmentally sustainable. The Acu-Rural Piping System is the No. 1 choice for all water supply lines for farms, vineyards, etc., providing reliability, longevity and economy.

Acu-Therm PE100 pipe is manufactured with a highly reflective white coating on the outside. This coating is extruded at the same time as the main pipe (co-extruded), forming an integral part of the pipe. Acu-Therm pipe is the ultimate solution for above ground applications including temporary water supply.

The most common types of damage in sewers are broken pipe and Defective Connections.  These are typical for rigid and brittle pipe. Our Acu-Sewer PE Pipe system is mainly fused which results in a material-homogeneous joint, which requires NO additional sealing elements.  Fused PE pipes facilitate the construction and operation of a very robust and durable, permanently sealed and long-lasting sewer piping system.  This means the system does no longer consist of individual components, but one single pipe section.

Water is a precious resource in Australia's dry climate, and this has led to its conservation through the use of Recycled or Reclaimed (grey) water sources, and rainwater catchment systems. Non-potable water supply is now an important part of sustainable building design. The standard AS3500.1:2003 "Water services" requires that the system be kept entirely separate from the potable water supply, and that the piping be colour-coded and labelled to identify it as non-potable.

Acu-Drain HDPE is a complete drain, waste and vent system of pipes and fittings, manufactured from high-density polyethylene (HDPE). The Acu-Drain system is all low-pressure pipes, with the thin wall making it extremely lightweight and easy to install. A range of drainage fittings are available to connect and join PE drainage pipe.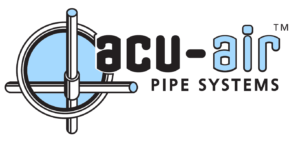 Acu-Air Piping System is a versatile alternative to steel air pipes, and makes installation easier when using poly fittings. HDPE pressure pipe is a common method for distributing air to machines and outlets in industrial factories. Longer coils of Acu-Air HDPE Pipe can be custom made to order, to reduce the amount of joints required.

The Acu-Tech PP-R system has been designed for the use both in sanitary applications for the supply of hot and cold water, and in the heating and air-conditioning industry. The system can also be used for industrial applications for transporting chemicals and liquid foods. PP-R is an acronym for Polypropylene Random Copolymer.
See this link to view the different pipe colours and striping options.