Want to develop your poly welding skills? Or do you need a refresher course to remind you of the principles of HDPE welding?
The PMBWELD301 Butt Weld course explores the methods, materials and applications of butt welding polyethylene pipes and fittings, materials and composition, applications and pressure ratings to using a variety of equipment- manual or auto with varying methods.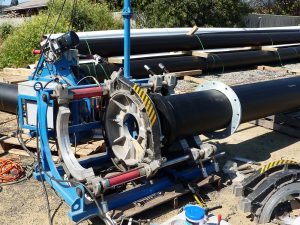 Butt welding course attendees will have the opportunity to operate a butt welding machine – joining pieces of pipe with an electric-hydraulic medium-large butt welder, which gives experience to those using small butt welders, or large butt welders.
This training is provided through PolyWeld Tech Academy – http://www.polyweldtech.com.au/training/butt-welding/
PolyWeld Tech Academy can provide HDPE welding courses and refresher courses, either in our training facility, or at your site (depending on the number of students).
Need more info?
Our sales team is always here to help. For guidance or more information, call us on.