The piping system combining the resistance of HDPE and the strength of steel.
WHAT IS ACU-STEEL HDPE lined steel pipe?
Acu-Tech's Acu-Steel is a steel piping system that combines the wear and resistance of HDPE and the strength of steel. Compared to standalone HDPE this piping system offers a higher pressure and temperature rating. The HDPE lining provides a smooth internal surface, reducing friction and enhancing flow characteristics. Acu-Steel offers a range of pipe sizes, fittings, and accessories to meet different project needs.
The HDPE-lined steel pipes are created by inserting a HDPE liner inside the steel pipe. Before insertion the HDPE liner has a larger outside diameter than the inside diameter of the steel pipe. The HDPE liners outside diameter is mechanically reduced then pulled through the steel host pipe and left to return to its original outside diameter. This then forms a tight/compressed fit as the HDPE liner expands inside the steel pipe and results in the pipe being restrained by friction throughout its entire length, holding it in place and resisting the usual thermal expansion and contraction of the HDPE pipe.
The Liner is then flanged with HDPE stub ends that are butt welded into position.
KEY BENEFITS AND FEATURES
The durability and structural integrity of steel pipe.
Full thickness flanging that prevents linear shearing.
Tight liner method resulting in minimal movement.
The HDPE provides reduced friction loss and high flow capacity because of its smooth wall and non-wetting features.
The steel host pipe provides the system, with high pressure capabilities, structural integrity, and mechnaical damage resistance.
Reduced pumping costs.
Suitable for transmission of various aggressive media.
---

---
APPLICATIONS
Acu-Steel, HDPE lined steel pipe, is used in within the Mining, Resources, Oil and Gas industrues to transport:
Slurries and tailings.
Pregnant solutions.
Raffinate.
Fly Ash.
Concentrate (pumped magnetite or ther ore).
Industrial fluids, including chemicals, and acids.
High pressure water lines.
Solutions at elevated temperatures.
LINE RANGE
Pipe spools (up to 24m).
Diameters from 2" (50mm) to 48" (1200mm).
Choice of flanged or Victaulic ends.
Equal Tees and Reducing Tees.
Reducers and Wafer Valves.
Bends to 90°(3D & 5D).
Air and Water release points.
---
LINER SELECTION
Acu-Tech is the only HDPE lined steel manufacturer with over 14 years of expeirince in HDPE Extrusion. Manufacturing our own liner results in:
No restrictions on dimensions, OD, ID and Wall Thickness and is not limited to standard HDPE pipe sizes. Ensuring the best "TIGHT FIT" liner
No restrictions on material grade (RCD , ACU-TUFF, PE112, PE100).
100% Virgin Material, no regrind.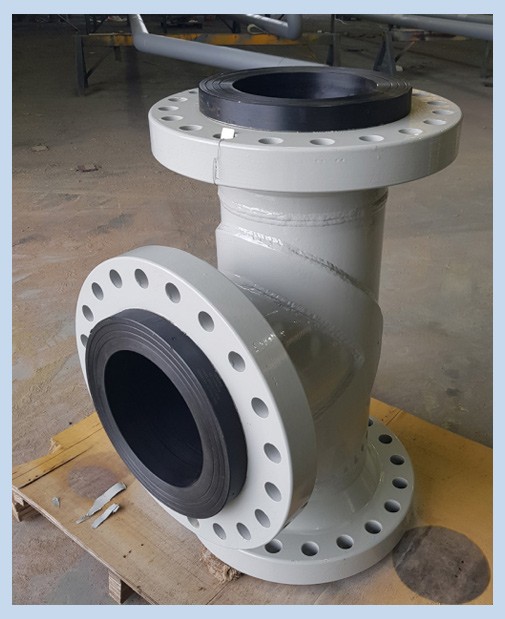 In 2022 Acu-Tech supplied liner for the worlds longest HDPE lined steel project approximately 200km of ≈640mm diametre pipe for the Iron Bridge project in Western Australia.
---