Acu-Tech's equipment department can service your electrofusion welder, butt welder or extrusion welder, and also a range of hand tools, such as rotational scrapers and welding clamps. All major branded PE welding equipment can be repaired or calibrated in Western Australia. Our experienced team can arrange consumables or spare parts from various manufacturers, either locally or from overseas suppliers, to get you welding again as soon as possible! Acu-Tech Piping Systems provides repair and calibration service for poly welding machines, including Calder poly welding machines, Hurner EF welders, Fusion HDPE welders, Dixon butt welders, McElroy butt welders, Worldpoly butt welding machines, Gator butt fusion welders, Technodue butt welders, Ritmo electrofusion and butt welders, Huerner electrofusion welders, and some other brands. Because HDPE welding equipment is often used in the sand and dirt, outdoors and in hot and humid weather, it can be prone to failures. However the fault could be as small as a blown fuse, or as damaging as a burnt out switchboard. Acu-Tech is able to procure spare parts from overseas suppliers, but sometimes the cost of a part can be more than the cost of a new welder! Acu-Tech's welder service department will first assess the damage, and communicate to you the likely cost of repairs before proceeding to order parts or begin with the repair work.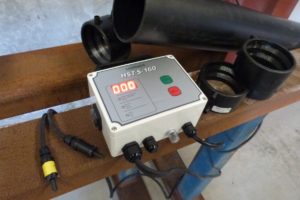 By regularly servicing your plastic welding equipment, you will reduce breakdowns and reactive maintenance, providing trouble-free site operation and increasing the working life of the EF welder or butt welder. Our team frequently attends courses from equipment manufacturers to stay up to date with advances in servicing poly welding equipment. Plastic welding machinery operates at high temperatures and high voltage, and unfortunately this can lead to short-circuiting if the device is left out in the rain or in high humidity. With a fully equipped service center and experienced technicians, you can be sure that your poly welding machinery is in good hands at Acu-Tech Piping Systems. We can offer annual calibration reminders, routine maintenance plans, and can hold dedicated spare parts for your company's machines if required, to reduce the risk of equipment being out of service when you need it most. Acu-Tech's service team of qualified electricians can also service generators and other related equipment. To book a service for your HDPE Welding Equipment, click the button below:

If you intend to bring your welder in for service, please fill out the PDF form below and leave it with the welder.