Acu-Tech Piping Systems provides repair and calibration service for poly welding machines, including Calder poly welding machines, Fusion HDPE welders, Dixon butt welders, McElroy butt welders, Worldpoly butt welding machines, Gator butt fusion welders, Technodue butt welders, Ritmo electrofusion and butt welders, Huerner electrofusion welders, and some other brands. Minor faults will usually take 1-2 days to repair,  and major faults may take longer than a week, especially if overseas parts are needed. Contact Acu-Tech's Welder Servicing team for more information.
To get a quote or book a welder service, please fill out the form below, and then print and fill out the PDF form, and attach the paper to your welder when you bring it in.
Before sending the welder to Acu-Tech, please fill out the PDF document below, and attach it to the welder.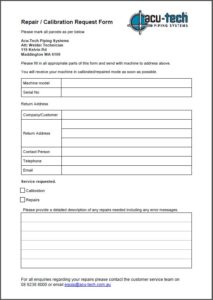 Welder Repair Calibration Request