Acu-Tech has partnered with PolyWeld Tech to provide NATA approved poly weld testing.
Polyweld Tech Academy is equipped with NATA accredited testing facilities specialising in tensile testing of butt welds and peel de-cohesions for electrofusion welds along with a complete range of QA/QC tests. Using the latest technology and experienced technicians, PolyWeld Tech can guarantee accurate results and fast!
PolyWeld Tech's "NATA Accredited Laboratory Tests" include:
Tensile testing of butt welded joints to ISO 13953 – polyethylene (PE) pipes and fittings – Determination of the tensile strength and failure mode
Bend testing of butt welded joints to BS EN 12814.1 – 2000 – testing of welded joints – bend test
Electrofusion joint peel decohesion testing to ISO 13954 – peel decohesion test for electrofusion assemblies
PolyWeld Tech's "In House Laboratory Tests" include:
Electrofusion joint crush decohesion testing to ISO 13955 – plastics pipes and fittings – crushing decohesion test for polyethylene (PE) electrofusion assemblies
Shear and peel strength tests on geomembrane HDPE liners to ASTM D6392 – determining the integrity of nonreinforced geomembrane seams produced using thermo-fusion
Oxidation induction time (OIT) to 11357-6 – determination of oxidation induction time
Melt flow rate testing to ISO 1133 plastics—determination of the melt mass-flow rate (MFR) and the melt volume-flow rate (MVR) of thermoplastics
Differential scanning calorimetry (DSC) to ISO 11357-1 – differential scanning calorimetry Part 1 general principles
Moisture and volatile content analysis to ISO 15512 – plastics — determination of water content
See more information about Poly Weld Testing at www.polyweldtech.com.au/testing-facilities
Poly Weld Testing Standards
Information about testing required for fittings is specified in the PIPA document 'PE Fabricated Fittings for Pressure Applications: Derating Requirements', which states:
7.1 Oxidation Induction Time Testing
When tested in accordance to ISO 11357-6, using oxygen at a test temperature of 200°C, fabricated fittings shall have an Oxidation Induction Time of 20 minutes or greater. Other test methods and procedures may be applied, provided they demonstrate equivalent accuracy to ISO 11357-6.
7.2 Melt Mass Flow Rate (MFR) Testing
The MFR of the material in the finished manufactured fitting shall not differ by more than ±20% from the MFR of the batch compound from which the fitting was manufactured, when tested in accordance to ISO 1133, with test parameters 190°C/5 kg.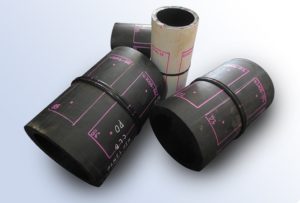 Both of these tests are available from PolyWeld Tech. Other Testing Standards include:
ISO 13954 "Plastics pipes and fittings – Peel decohesion test for polyethylene (PE) electrofusion assemblies of nominal outside diameter greater than or equal to 90 mm."
ISO 11413 "Plastics pipes and fittings – Preparation of test piece assemblies between a polyethylene (PE) pipe and an electrofusion fitting."
ISO 11414 "Plastics pipes and fittings – Preparation of polyethylene (PE) pipe/pipe or pipe/fitting test piece assemblies by butt fusion."
ISO 13953 "Polyethylene (PE) pipes and fittings – Determination of the tensile strength and failure mode of test pieces from a butt-fused joint."
ISO 13957 "Plastics pipes and fittings – Polyethylene (PE) tapping tees – Test method for impact resistance."
ISO 13955 "Plastics pipes and fittings – Crushing decohesion test for polyethylene (PE) electrofusion assemblies."
ISO 13956 "Plastics pipes and fittings – Decohesion test of polyethylene (PE) saddle fusion joints — Evaluation of ductility of fusion joint interface by tear test."
ISO 21307 "Plastics pipes and fittings – Butt fusion jointing procedures for polyethylene (PE) pipes and fittings used in the construction of gas and water distribution systems."
ISO 21751 "Plastics pipes and fittings – Decohesion test of electrofusion assemblies — Strip-bend test."
Need more info? Call us on: