ACU-SEWER – The Waste-Friendly HDPE Piping System
The most common types of damage in sewers are broken pipe and defective connections.  These are typical for rigid and brittle pipe. The Acu-Sewer PE pipe system is mainly fused which results in a material-homogeneous joint which requires no additional sealing elements.  Fused PE pipes facilitate the construction and operation of a very robust and durable, permanently sealed and long-lasting sewer piping system.  This means the system does no longer consist of individual components, but one single pipe section. Black pipe with cream stripes, Acu-Sewer HDPE pressure pipe is perfect for sewer mains and transfer pipelines, and is stocked in standard sizes or made to order. Acu-Sewer has a cream stripe for easy identification and is stocked in lengths of 6 m or 12 m, but can also be made to order. Why Acu-Sewer?
Quality made HDPE sewer pressure pipe with cream stripe for easy identification.
No anchor or thrust blocks are needed to prevent joint blow-out when using heat fusion welded jointing. Correctly made heat fusion joints may be expected to last the life of the system and withstand thrust/end loads equal to the strength of the pipe/ fitting without adding external restraint or thrust blocking.
The fusion joint is resistant to root penetration.  Recent findings have shown that the mechanisms of root penetration are not based on the presence of water in the pipe, also not in case of leak-tight joints but on the preferred growth direction of the root in the area of the pipe bedding.  The sand bedding offers less resistance to root growth than the natural ground.  Following the pipe the shoot sooner or later encounters a coupler.  In case of electrofused joints, roots have no further opportunity to grow, not even in the area of the joint, and the shoot dies from the lack of nutrients.
Pipe lengths up to 20 m for PE pipes require fewer joints and thus increase the position reliability of the piping.  Because of the low weight of polyethylene, large sewer pipe lengths can be handled easily. When replacing concrete sewer pipes, using Acu-Sewer pressure pipe for sewer mains translates directly to cost savings for the sewer pipe installer.
High performance PE pipe provides excellent pipeline flexibility needed for trenchless and other cost effective and less intrusive installation methods.
Acu-Sewer HDPE sewer pipe can be joined with electrofusion fittings, butt welding equipment or compression fittings.
Acu-Sewer black poly pipe with a cream stripe– sizes below are available in SDR7.4, SDR9, SDR11, SDR13.6, SDR17, SDR21, SDR26, SDR33, SDR41:
Acu-Sewer HDPE pipe DN63 mm (PCJ063##100). – exchange the ## for the SDR.
Acu-Sewer HDPE pipe DN75 mm (PCJ075##100).
Acu-Sewer HDPE pipe DN90 mm (PCJ090##100).
Acu-Sewer HDPE pipe DN110 mm (PCJ110##100).
Acu-Sewer HDPE pipe DN125 mm (PCJ125##100).
Acu-Sewer HDPE pipe DN140 mm (PCJ140##100).
Acu-Sewer HDPE pipe DN160 mm (PCJ160##100).
Acu-Sewer HDPE pipe DN180 mm (PCJ180##12).
Acu-Sewer HDPE pipe DN200 mm (PCJ200##12).
Acu-Sewer HDPE pipe DN225 mm (PCJ225##12).
Acu-Sewer HDPE pipe DN250 mm (PCJ250##12).
Acu-Sewer HDPE pipe DN280 mm (PCJ280##12).
Acu-Sewer HDPE pipe DN315 mm (PCJ315##12).
Acu-Sewer HDPE pipe DN355 mm (PCJ355##12).
Acu-Sewer HDPE pipe DN400 mm (PCJ400##12).
Acu-Sewer HDPE pipe DN450 mm (PCJ450##12).
Acu-Sewer HDPE pipe DN500 mm (PCJ500##12).
Acu-Sewer HDPE pipe DN560 mm (PCJ560##12).
Acu-Sewer HDPE pipe DN630 mm (PCJ630##12).
Acu-Sewer HDPE pipe DN710 mm (PCJ710##12).
Acu-Sewer HDPE pipe DN800 mm (PCJ800##12).
Download the Acu-Tech Product Catalogue for a full list of dimensions: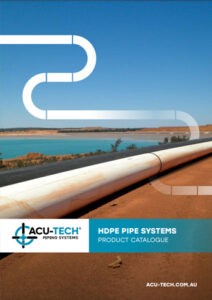 Helping You
If you need advice or guidance, we're here to help. Acu-Tech Piping Systems' sales team have extensive experience in the supply of Acu-Sewer polyethylene sewer pipe. We encourage you to tap into this wealth of knowledge for advice and guidance. Our sales office is ready to take your call on
08 9238 8000
and will ensure that your enquiry is dealt with promptly. Alternatively, to send a message please
click here
.