Acu-Tech sells a range of standard size backing rings (or backing flanges), from 20 mm to 1000 mm diameter. A backing ring is a circular metal ring, with holes around the perimeter, used in pairs to bolt two HDPE pipe spools together. This allows lengths of PE pipe to be disconnected and  re-connected, for inspection, replacement or relocation. The internal diameter of the backing ring should always be slightly larger than the outside diameter of the HDPE pipe.
These metal backing rings allow the two ends of a pipe to be joined with bolts. Also known as back up plates, backing rings hold the pipeline tightly to a valve or fitting and are often required for high-pressure pipe applications. Acu-Tech's backing rings come in galvanised finish, or stainless steel backing rings are also available.
The following size backing rings are available: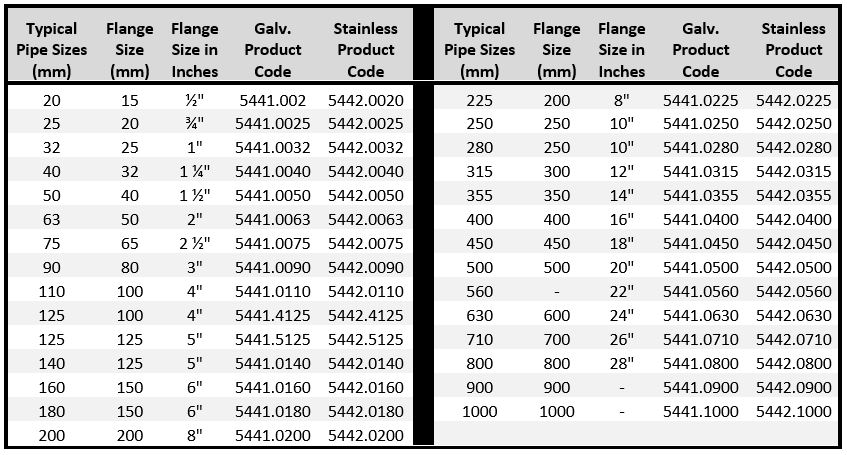 The PIPA Industry Guidelines 'Metal backing flanges for use with Polyethylene (PE) pipe flange adaptors' states: Where there is a need to join polyethylene pipe to pipe of another material or ancillary equipment such as valves and pumps then mechanical flanges may be used. They provide not only a means of transition but a fully end load resistant joint that can also be disassembled for maintenance purposes. Flanges and fasteners should be coated in accordance with Australian standards or codes such as AS/NZS 4680 for galvanising. Alternatively, stainless steel flanges and fasteners can be used, or flanges can be protected with polymeric coatings in accordance with AS/NZS 4158 and be used in conjunction with stainless steel fasteners.
Acu-Tech also supplies butterfly valve spacers, blind flanges, flange gaskets, and bolt sets, for use with these Backing Rings. See https://www.acu-tech.com.au/ancillary-items/
Get in touch with our team for more information!