Acu-Tech Piping Systems hires out welding equipment and also provide service & calibration for welders. Acu-Tech's hire division has a full range of
butt welders
,
extrusion welders
and
electrofusion welders
which can weld pipe from 22 mm up to 630 mm in diameter. This includes older makes of electrofusion equipment, which can be useful if a team is trained to use that particular model. Please note that due to insurance reasons, hire equipment is only available to customers who have a credit account with Acu-Tech. New equipment is available for sale if you prefer to invest in equipment up front.
See this page for more options.
Will you be welding on site without power supply? Acu-Tech also sells/hires portable generators, designed to be used with poly welding equipment.
See this link for more information.
What size poly welder should I use?
If you have a small welding job (under 250 m long or <20 welds for example), we recommend the following welders (as a guide only):
| Machine Name | Pipe Range | Welder Type | Product Code |
| --- | --- | --- | --- |
| Dixon 225 Butt Welder | Pipe 63mm to 225mm diameter | Butt Welder | Dixon225 |
| Dixon 335 Butt Welder | Pipe 110mm to 355mm diameter | Butt Welder | Dixon335 |
| Dixon 630 Butt Welder | Pipe 315mm to 630mm diameter | Butt Welder | Dixon630 |
For larger projects, or for pricing and availability, please contact our team on 1300 270 270
Acu-Tech has a Fast Fusion Trac20 welder available for hire
in Western Australia! The harsh conditions of the Pilbara region make this fully enclosed welder the perfect tool to speed up your pipeline installation team – keeping your staff safe and comfortable while increasing productivity!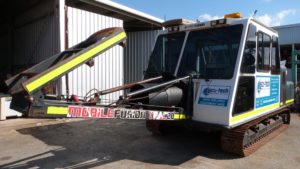 Click the button below to book a service for your welder;

Click the button below to hire a poly welding machine;

Acu-Tech is your partner in creating pipe systems built to last. We serve the mining, plumbing, civil, industrial and utilities sectors across Australia and work to meet the specific needs of each industry. We aim to contribute to the success of every project through a comprehensive stock inventory and prompt delivery of requirements every time.
Poly welder servicing and calibration – butt welders & electrofusion welders.
Acu-Tech's equipment department can service your electrofusion welder, butt welder or extrusion welder, and also a range of hand tools, such as rotational scrapers and welding clamps. All major branded PE welding equipment can be repaired or calibrated in Western Australia. Our experienced team can arrange consumables or spare parts from various manufacturers, either locally or from overseas suppliers, to get you welding again as soon as possible! Acu-Tech Piping Systems provides repair and calibration service for poly welding machines, including Calder poly welding machines, Fusion HDPE welders, Dixon butt welders, McElroy butt welders, Worldpoly butt welding machines, Gator butt fusion welders, Technodue butt welders, Ritmo electrofusion and butt welders, Huerner electrofusion welders, and some other brands. Acu-Tech's service team of qualified electricians can also service generators and other related equipment.
Butt Welder Hire
Electrofusion Welder Hire
Extrusion Gun Hire
FastFusion Trac20 Welder Hire
Pipeline Installation Equipment Hire
Welder Service
Need more info? Call us on:
Need more info?
Our sales team is always here to help. For guidance or more information, call us on.