Huerner Electrofusion Welding Equipment in Australia
Looking for Huerner HDPE Welding Equipment in Australia? Acu-Tech Piping Systems is an Australian Distributor of Hurner Electrofusion Welding Equipment.
View our Equipments
Acu – Tech
Huerner Welding Equipments for Sale & for Hire
Acu-Tech Piping Systems sells, hires out welding equipment and also provide service & calibration for welders.
Focus Product
Huerner Electrofusion Presure Welder
The EF300 Pressure Welder is used for electrofusion jointing pressurised HDPE pipes and fittings for diameters from 20 mm up to 1200 mm diameter.
Welding range of diameters up to 1200 mm.
Automatic data logging of 10,000 welding reports.
Welding information can be retrieved on the screen, eliminating the need to print a report.
Display screen is visible in the dark and works in extreme temperatures.
Easy to use – will sit on its back for better access.
Optional recording of GPS location of each weld (EF300GPS units only).
The strong handle also doubles as a cord holder.
Data can be managed on your phone – via Bluetooth & the 'WeldTrace' app – perfect for poly welding equipment.
Highly portable poly welder – only weighs 16 Kg.
Comes with an aluminium carry case – perfect for poly welding equipment.
Fitting information can be entered by bar-code, fusamatic pin or manual entry.
USB connection and Bluetooth connectivity to easily download report data.
Multilingual, easy-to-understand interface, with simple colour-coded control buttons.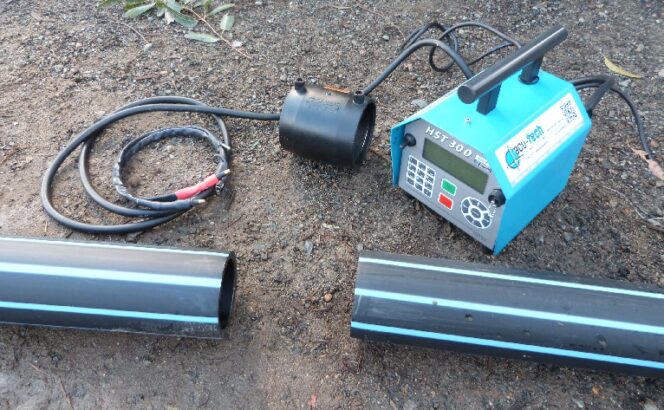 How it Works
HDPE High Density Polethylene Plastic Welding
Welding HDPE is the proces of joining lengths of pipes together. New technology in poly welding equipment has led to the development of a generation of HDPE welding products that boasts an array of unique and revolutionary features.
More Info »