Acu-Tech Piping Systems will be at the Dowerin Field Day on 28th & 29th August 2019. We will be located at the front of the Elders shed – the same position as 2018.
Read more about Dowerin Field Day here.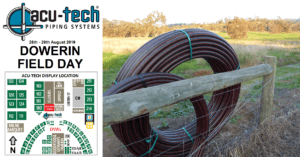 Acu-Tech will also be present at the Newdegate Field Day on 4th & 5th September 2019. Read more about Newdegate Field Day here.
We look forward to seeing you there!